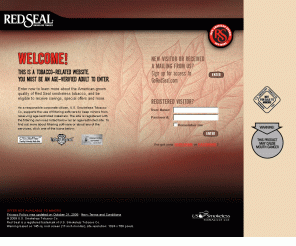 RedSeal® Smokeless Tobacco | Welcome
Description:
This is the official website of Red Seal Smokeless Tobacco. Access is limited to age-verified adults.
Keywords:
Red Seal, Smokeless, Tobacco, Real Deal, Trivia, Game, Testimonials, Story, Stories, Fine Cut, Long Cut, Natural, Mint, Wintergreen, Straight, Flavor, Smooth, Refreshing, Dip, 100% American, 25% More, Cans, Hunting, Fishing, Coupons, e-Coupons, ecoupon, Win, Winners, Prizes, Contest, Sweepstakes, Chew, Dippers, UST, USST, GoRedSeal.com, mst, savings, red seal tobacco, goredseal.com, redseal, goredseal, redseal sweeps, red seal sweeps, redseal sweepstakes, red seal sweepstakes, goredseal sweeps, american made sweepstakes, red seal american made sweeps, red seal american made sweepstakes, monthly prizes, monthly winners.
Tags:
goredseal
,
com
,
tobacco
,
smokeless
,
welcome
,
redseal®
,
name
,
was
,
new
,
password
,
user
,
red
,
privacy
,
policy
,
conditions
,
terms
,
october
,
updated
,
seal
,
what
,
this
,
age
,
access
,
website
,
verified
,
american
,
sweepstakes
,
more
,
site
,
adults
,
limited
,
official
,
first
,
must
,
registered
,
enter
,
from
,
sign
,
sealâ®
,
visitor
,
Goredseal.com
Content Revalency: Title: 40.00% Description: 18.75% Keywords: 10.64% | Document size: 49,681 bytes
Quantcast rank:
#145,513
More info:
Whois
-
Trace Route
-
RBL Check
GOREDSEAL.COM - Site Location
Country/Flag
Canada
City/Region/Zip Code
Toronto, ON, M8W
Organization
Peer 1 Dedicated Hosting
Internet Service Provider
Peer 1 Dedicated Hosting
GOREDSEAL.COM - Domain Information
Domain
GOREDSEAL.COM [ Traceroute RBL/DNSBL lookup ]
Registrar
CSC Corporate Domains, Inc. CSC CORPORATE DOMAINS, INC.
Whois server
whois.verisign-grs.com
Created
26-Sep-2005
Updated
22-Sep-2017
Expires
26-Sep-2018
Time Left
215 days 13 hours 11 minutes
Status
clientTransferProhibited https://icann.org/epp#clientTransferProhibited serverDeleteProhibited https://icann.org/epp#serverDeleteProhibited serverTransferProhibited https://icann.org/epp#serverTransferProhibited serverUpdateProhibited https://icann.org/epp#serverUpdateProhibited clientTransferProhibited http://www.icann.org/epp#clientTransferProhibited serverDeleteProhibited http://www.icann.org/epp#serverDeleteProhibited serverTransferProhibited http://www.icann.org/epp#serverTransferProhibited serverUpdateProhibited http://www.icann.org/epp#serverUpdateProhibited
DNS servers
DNS1.CSCDNS.NET 165.160.12.20
DNS2.CSCDNS.NET 165.160.14.20
dns1.cscdns.net 165.160.12.20
dns2.cscdns.net 165.160.14.20

Site Response Header
Response
HTTP/1.1 302 Found
Server
Microsoft-IIS/6.0
Date
Fri, 07 Aug 2009 00:18:13 GMT
Content-Type
text/html; charset=utf-8
Cookie
00b_track=CustID=&CampID=&RecipID=&RecipKey=&FirstName=; path=/