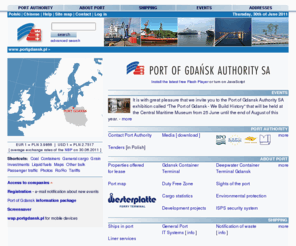 DMOZ Information
Port of Gdansk Authority Co.
Northern and Inner Port, investments, cargo handling, liner services, vessel traffic.

Top/Regional/Europe/Poland/Business_and_Economy/Marine_Sales_and_Services
http://www.portgdansk.pl/en/index.htm

Portgdansk.pl has 2 URLs listed in 2 Dmoz categories.

Related Sites: Northship.com.pl , Polfracht.pl , Phs.com.pl , Gdynia.pl , Mmsltd.com.pl , Hcp.com.pl , Port.szczecin.pl ,
PORTGDANSK.PL - Site Location
Country/Flag
Poland
City/Region/Zip Code
, ,
Organization
Zarzad Morskiego Portu Gdansk S.A.
Internet Service Provider
Zarzad Morskiego Portu Gdansk S.A.
Site Response Header
Response
HTTP/1.1 302 Found
Server
Apache
Date
Wed, 20 Apr 2011 00:36:20 GMT
Content-Type
text/html
Cookie
Csid=deleted; expires=Tue, 20-Apr-10 00:36:20 GMT; path=/